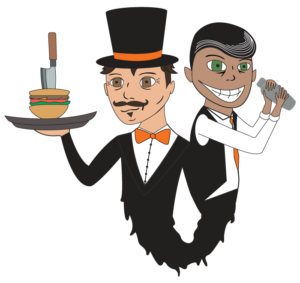 MARKET STREET INN SIMULTANEOUSLY CATERS TO THE
FINER THINGS AND THE
WILD THINGS IN LIFE
"An asylum for insane libations and crazy food stuff"
REVIEWS
"We were visiting family and went for dinner TWICE. The restaurant has a bar side with lots of tvs and a finer dining side, plus a nice outdoor patio. Both times we sat in the bar side. Whether you choose lighter fare or dinner entrees, it's all good! For one meal I had the cauliflower "steak" with a great corn relish topping...my second meal I had scallops...it was all delicious. Also, the staff we had was engaging and informed. I highly recommend this restaurant."
"I live in Baltimore and my family lives in Norfolk Virginia area, Whenever I go on vacation this is where we meet to exchange my dog so my parents can babysit. Gary and team are awesome and always make us feel welcome and at home. We have become regulars at a restaurant over 2 hours from home!"
"I read a lot of reviews so I had to try. The restaurant side had a special seating the night I stopped in, but the pub side was opened. The service was very good, the food was phenomenal, New York Strip topped with crab was perfect. Yes this is crab meat not saw dust. Steak was medium rare on the money. Awesome selection of draft and local craft beer, EVO is very good. Great atmosphere to spend a night with great food and drink. Next time I will skip the steak and just get the crab cakes!"
"I've had lunch there twice -- both times were excellent! The cream of crab soup is the best around -- such flavor, crab bits, and so creamy! The turkey reuben is wonderful. Second time there I had the chicken cheesesteak sandwich -- tender chicken and melted cheese. Went there with co-workers, saw a lot of good other sandwiches coming out. The crabcake sandwich is popular -- must be for a reason, and the 1/2 sandwich and cup of soup is a good lunch deal. The place gets crowded. You can always sit at the big bar they have to get a seat. Highly recommend."
"This is a special gem of a reasturant we have discovered in Salisbury. We are new to the area and have already dined there twice. The evening menu is full of tempting dishes especially the seafood. We enjoyed brunch there today and were introduced to scrapple-a local favorite. As a bonus they have an impressive wine list!
Both times we have dined there Michael was our waiter. Michael is very friendly, helpful and knowledgable with the menu. We will ask to sit at one of his tables on our next visit."
"My wife stopped on our way to Virginia Beach and then when returning back to Maryland on our way home. Great food, at a reasonable price! Quaint place! You won't be disappointed when you make the stop here!"